Most of the time, travelers squeeze on a tight schedule to see the best of attractions in a specific place. What they do is search on best restaurants to eat, places to party, and streets to wander.
In this article, we've made it easier for all those travelers to get the most of their Munich trip a more productive, yet memorable one. Check out our exciting list of best short tours and nightlife activities to try in Munich.
1. Night Watchman's Round
Release the adventurer in you and discover Munich's secret at one of the exciting short tours and activities in Munich.
At this night tour, a costumed night watchman will guide you through the alleys of Munich while he retells the stories of the city. With a duration of 2 hours, participants can learn the history of Munich with stopovers at St. Peter's Church and Salzstraße. You'll pass by the torture chamber and prison to the Alter Hof, while your guide shares every legends and city's secrets on each stops.
Check Availability
2. The Original Size Beer Matter Tour
You can also cap off your Munich adventure with this Original Size Matters Beer Tour. It's considered to be the most recommended short night tours and activities in Munich, because of its top-notch guide and excellent experience.
Here, you'll feast with knowledge about the breweries, nearby establishments, and even get samples as well.
Check Availability
If this is your first time in Germany, join a Bavarian Beer and Food Evening tour in Munich. This is one of the short night tours to get a jumpstart of what this city can offer. It's a vacation requisite one can't miss as they traverse along the wonderful Munich.
Beer has arguably shaped the German culture, alongside with its historical buildings , and vibrant nightlife. So tick off that german cliches and take part in this exciting acitivity you can do in Munich.
4. Munich by Night and Dinner at Hofbrauhaus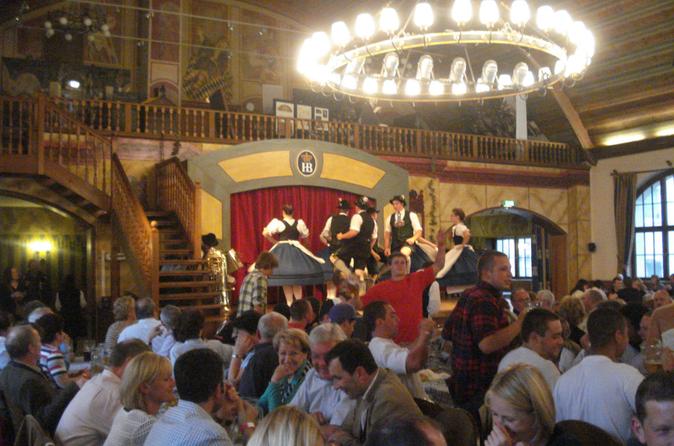 This 4-hour tour include sightseeing at Munich's iconic landmarks like the popular squares, monuments, and fountains during the evening. Afterwards, those who will join this tour will get to eat dinner Hofbräuhaus accompanied by a show before traveling to the top of the Olympiaturm for a spectacular panoramic view of the city. This tour also includes a drink at one of Munich's nightclub.
5.  Night City Walking Tour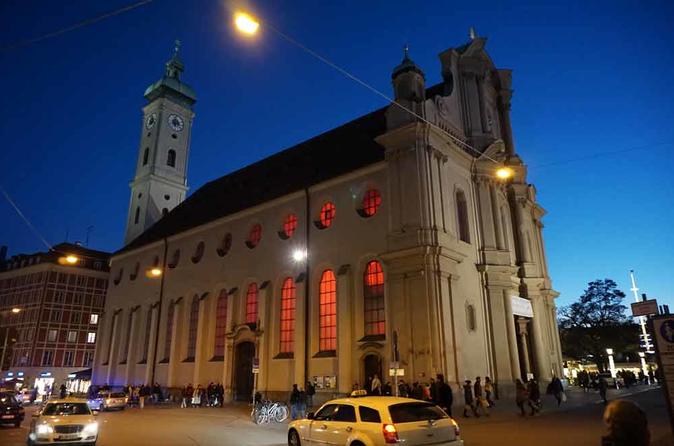 Have a comprehensive tour around Munich at dawn and join the Night City Walking Tour. Tour starts at 7 PM from the Fish Fountain in Marienplatz and the designated guide will hand out a nice cold beer. The tour will highlight the old town and the inner city.
During the tour, the guide will share some stories about Munich's history which will end at the world-famous Hofbräuhaus. Extra beers are for sale during the tour in case guests ran out of
Did we get it right?
If you think we've missed a night tour in Munich which should be on this list, contact us! Are you looking for nightlife guide in other cities? Check out more cities here.